Have you ever driven past one of our modern ruins—a factory, a barn, a farmhouse—and wondered about its story—the people, their possibilities, their passions?
I read an article with 85 photos by Johnny Joo in the Cleveland Plain Dealer, photos of abandoned and overgrown old buildings, exteriors and interiors. Moving and somewhat disturbing.
While these photos (and the objects themselves) generate multiple questions, the question most significant for me is, what's the human story behind these abandonments?
With old factories, ship-wrecked boats, and even amusement parks, the answer is fairly straight-forward, but it can be disturbing. Economic conditions change, markets dry up, plant and equipment become obsolete, and demolition is too expensive given other things the land could be used for. The human story here is muted, though some workplaces will have more human story than others. But the story that mostly calls our attention is the story (or stories) of those who worked here and lost their jobs and of those who owned the companies and perhaps lost more than their job. Other stories would tell of workplace friendship or politics, of union struggles, of workers' injuries and deaths.
With diners and churches, the human significance of abandonment becomes more disturbing.
Churches and diners exist for more than purely economic reasons. In churches, people prayed, were baptised and married, sought meaning and membership. Diners and restaurants provided meeting places and memories as well as food and employment.
Cultural and social, as well as economic, change leads to their abandonment. Historic preservationism can become a fetish, but certain structures have artistic and social value that merits more than neglect. Not all can be preserved. Perhaps, just as there are protocols for disposing of old U.S. flags, there should be decommisioning and demolition rather than just abandonment.
Most disturbing, however, are the abandoned homes and interiors. As Joo writes, "What leads to a family's decision as they decide to stand up, open their door and walk out, leaving everything behind?"
Sometimes, of course, someone dies and there is no one, friend or relative, to distribute and dispose. Other times, as Joo notes, people just walk out and leave everything behind. Abandoned residences are even more distubing than the abandoned storage lockers featured on the TV show. Who were the people? What were their stories? Why these artifacts of forgottenness and neglect?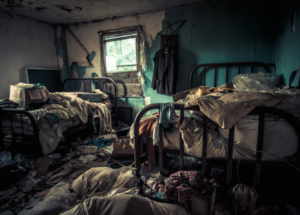 While some of the abandoned homes are crumbling to ruin or have become trash repositories, Joo also brings us homes that, save for some dust and fading, look pristine, with books, clothes, furnishing, bedding all just waiting for someone to return who never returned.
His description of his exploration of this house is beautiful. https://architecturalafterlife.com/2015/04/18/a-beautiful-time-capsule/
Considering all this, I was reminded of a poem I had to memorize growing up in the Paterson, NJ area. Joyce Kilmer's poem, "The House With Nobody In It," captures, with perhaps more sentimentality than my college English professors would approve of, the same feelings. (Kilmer, a North Jersey poet who died in WW I is best know for his poem "Trees.")
Whenever I walk to Suffern along the Erie track

I go by a poor old farmhouse with its shingles broken and black.

I suppose I've passed it a hundred times, but I always stop for a minute

And look at the house, the tragic house, the house with nobody in it.

I never have seen a haunted house, but I hear there are such things;

That they hold the talk of spirits, their mirth and sorrowings.

I know this house isn't haunted, and I wish it were, I do;

For it wouldn't be so lonely if it had a ghost or two.

This house on the road to Suffern needs a dozen panes of glass,

And somebody ought to weed the walk and take a scythe to the grass.

It needs new paint and shingles, and the vines should be trimmed and tied;

But what it needs the most of all is some people living inside.

If I had a lot of money and all my debts were paid

I'd put a gang of men to work with brush and saw and spade.

I'd buy that place and fix it up the way it used to be

And I'd find some people who wanted a home and give it to them free.

Now, a new house standing empty, with staring window and door,

Looks idle, perhaps, and foolish, like a hat on its block in the store.

But there's nothing mournful about it; it cannot be sad and lone

For the lack of something within it that it has never known.

But a house that has done what a house should do, a house that has sheltered life,

That has put its loving wooden arms around a man and his wife,

A house that has echoed a baby's laugh and held up his stumbling feet,

Is the saddest sight, when it's left alone, that ever your eyes could meet.

So whenever I go to Suffern along the Erie track

I never go by the empty house without stopping and looking back,

Yet it hurts me to look at the crumbling roof and the shutters fallen apart,

For I can't help thinking the poor old house is a house with a broken heart.
"The House with Nobody in It" was originally published in Trees and Other Poems. Joyce Kilmer. New York: George H. Doran Company, 1914.